In Process Metrology Software :
Adaptive Production becomes a reality!
Enables 'Adaptive Manufacturing' with Metrology Feedback
Measurement results can be used immediately by the manufacturing cycle for work offset, tool compensation and other automation feedback. Enables manufacturing process and cutting processes to Self adjust to changing parameters.
Real time execution
Measurement results are immediately calculated and displayed eliminating the need to wait for Results for quick decision making. For automated cycles, there is no need for an operator to use the software
Full CMM software functionality on NC
Makes any manufacturing machine similar to a CMM. Eliminates the need to move parts back and forth Achieves complete measurement, GD&T  and complex coordinate systems requirements.
Works with DMIS language used by CMMs
Works with DMIS  standard measurement language on the software. Converts DMIS into machine tool G-Code program on the controller.
True Calibration of probes to machine environment
Measurement probes are integrated truly with the manufacturing system. All measurements are correlated with the cutting tools enabling precise measurements that can be used by the manufacturing cycle.
Offline program with virtual machine models
Generate programs offline with accurate virtual machine models. This enables automatic 'collision avoidance' as well as optimum multi axis motion paths.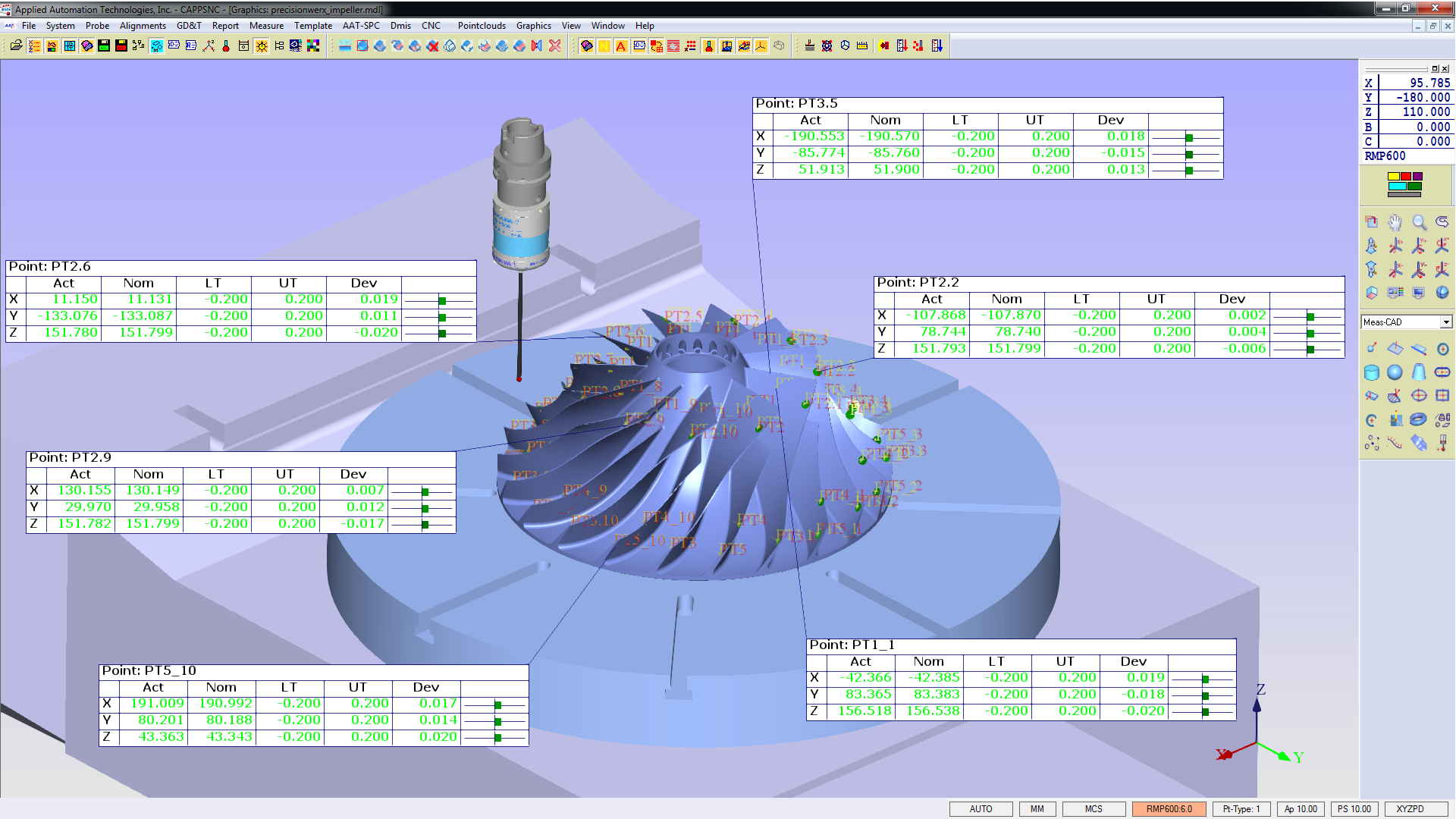 PART SETUP
Help part work offset setup with 6 DOF before part cutting process.
Creates complex coordinate systems similar to CMMs
Automatically updates coordinates systems to controller work offsets
Align parts to previous datums in multi op processes.
NC-FIT can use multiple coordinate systems to adapt NC cutting programs to actual part location and shape
Helps prepare cutting process paths.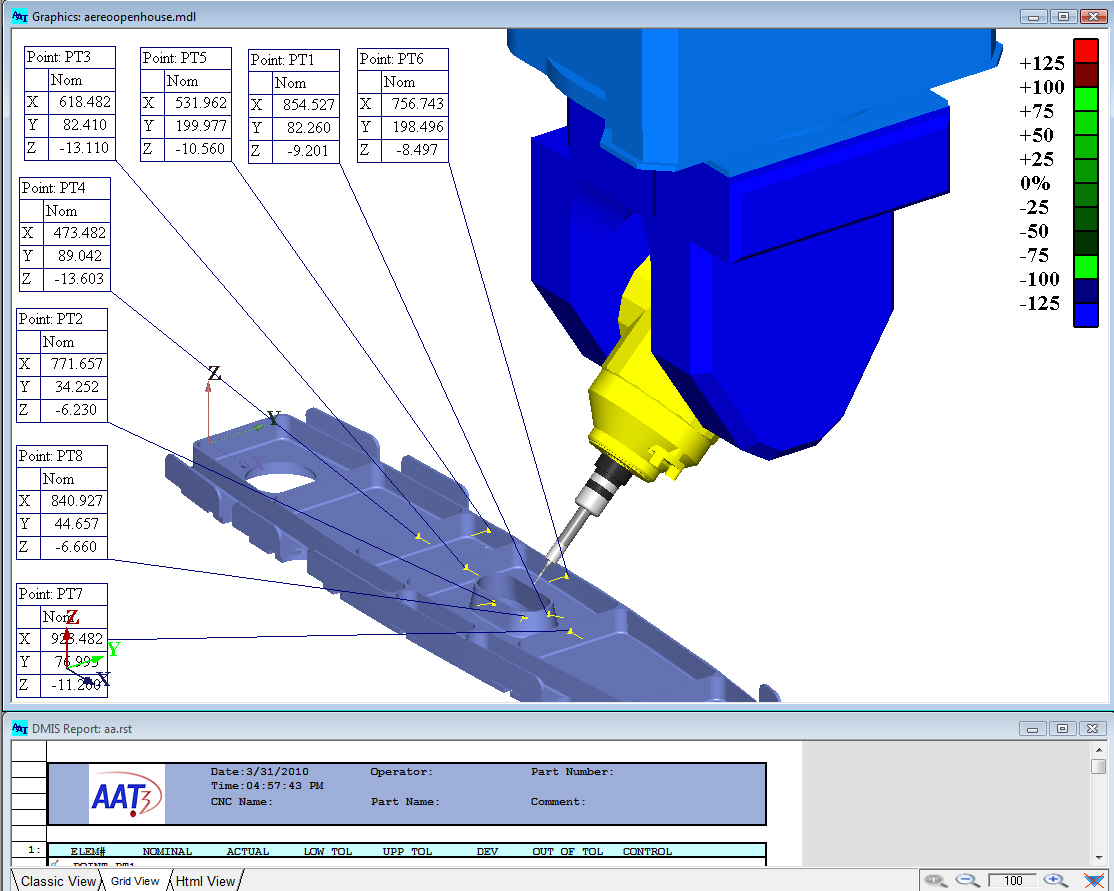 COMPLETE CMM STYLE MEASUREMENT REPORTS
Program and run any machine tool to work like a CMM.
DMIS programs compatible and exchangeable with CMMs.
Generates complete measurement reports per ANSI and ISO standards.
SPC option allows process control directly on the manufacturing systems.
Reduces the dependence on an external CMMs.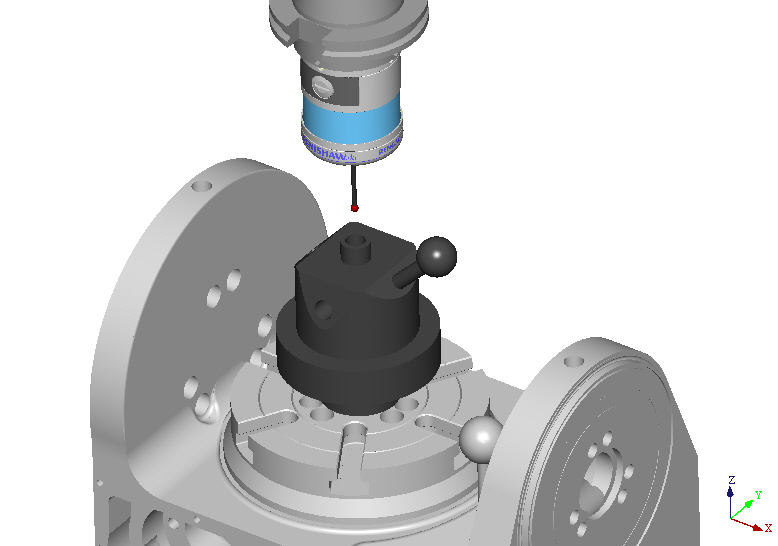 AUTOMATION FEEDBACK
Provide a closed loop metrology feedback
Help manufacture a part in automated manufacturing environment by changing manufacturing parameters based on measurement results
Automatic update of any controller register based on DMIS program commands
Automatic bi-directional feed of any part and program information between controller and software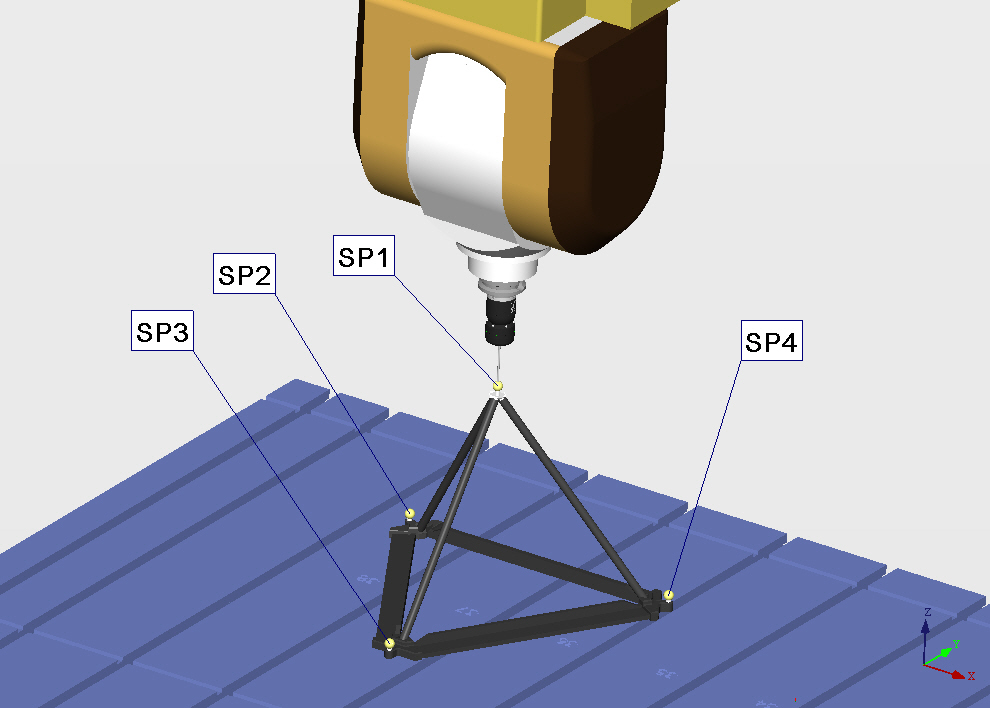 MONITOR MACHINE PERFORMANCE
Check machine geometry integrity by use of gages and measurement programs.
Detect offset variation for multi axis systems and auto update on controller.
Detect and track head offset changes, automatically calibrate and update.
Custom and special gages can be used for different machine tool geometries