Capps – DMIS
CAPPS was one of the pioneers in the field of software with CAD support for use on coordinate measuring machines.
AAT (Applied Automation Technology Inc.) has developed CAPPS with the aim of producing a constantly evolving metrology software with a powerful graphics engine, CAD functionalities, DMIS programming language, tree structure and a flexible reporting environment .
With over 20 years of evolution, CAPPS is a leader in CAD-based measurement software.
CAPPS is provided in 3 different levels: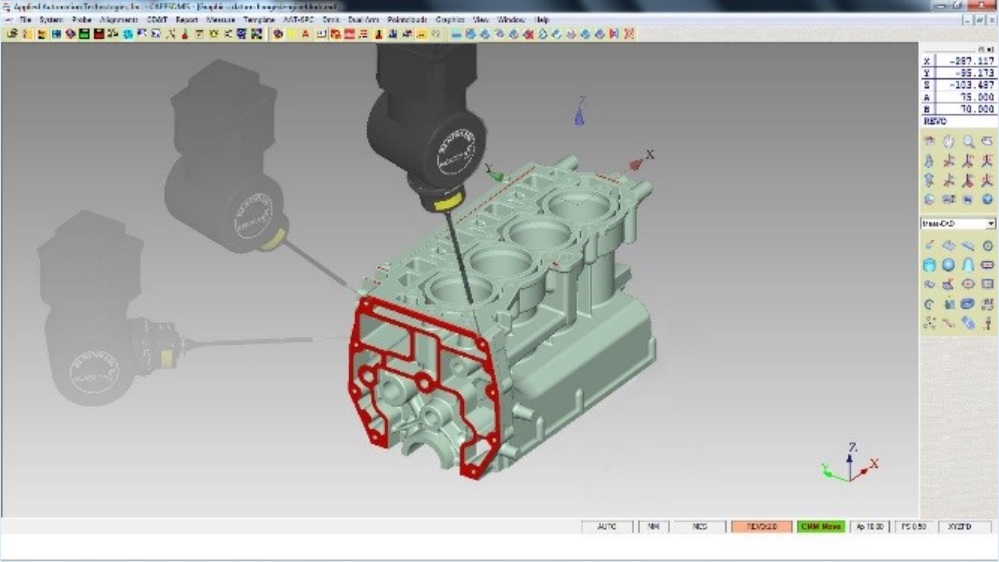 CAPPS Advanced
Capps Advanced is AAT's flagship product.
It is a software based on CAD metrology equipped with an intuitive user interface.
It allows complete control over a mathematical model through the implementation of an easy and precise CAD alignment, automatic measurement functions, automatic feature recognition.
Capps Advanced can be interfaced to laser scanners, analogue scanning probes, SPC analysis programs, and much more.
Among the features of this version we highlight:
– Automatic anti-collision system
– Automatic probes calibration
– Advanced CAD functions for the manipulation of surfaces and curves
– Automatic generation of the probe path relative to measurements on geometrical elements
– Automatic extraction function from CAD model
– Advanced CAD alignment methods
– Customizable and programmable graphical reports
– Measurement methods on sheet metal, die-cast and molds.
Optional modules for CAPPS Advanced
The following optional modules are available for special applications: Tube measurement – Module to create, copy or simply measure any bent pipe or rod. SPC Analysis – Module for real-time SPC statistical analysis of measurement data. Palette – Module for point-to-point measurement or continuous scanning of parameters of turbine blades and wing profiles. Points cloud – Module for acquiring and managing point clouds with laser scanners. Dual arm – Module for using a dual-arm CMM machine. Temperature compensation – Module for automatic compensation of the scale reading based on the measured values ​​of room / part temperature. Scanning – Module for the use of continuous scanning measuring heads.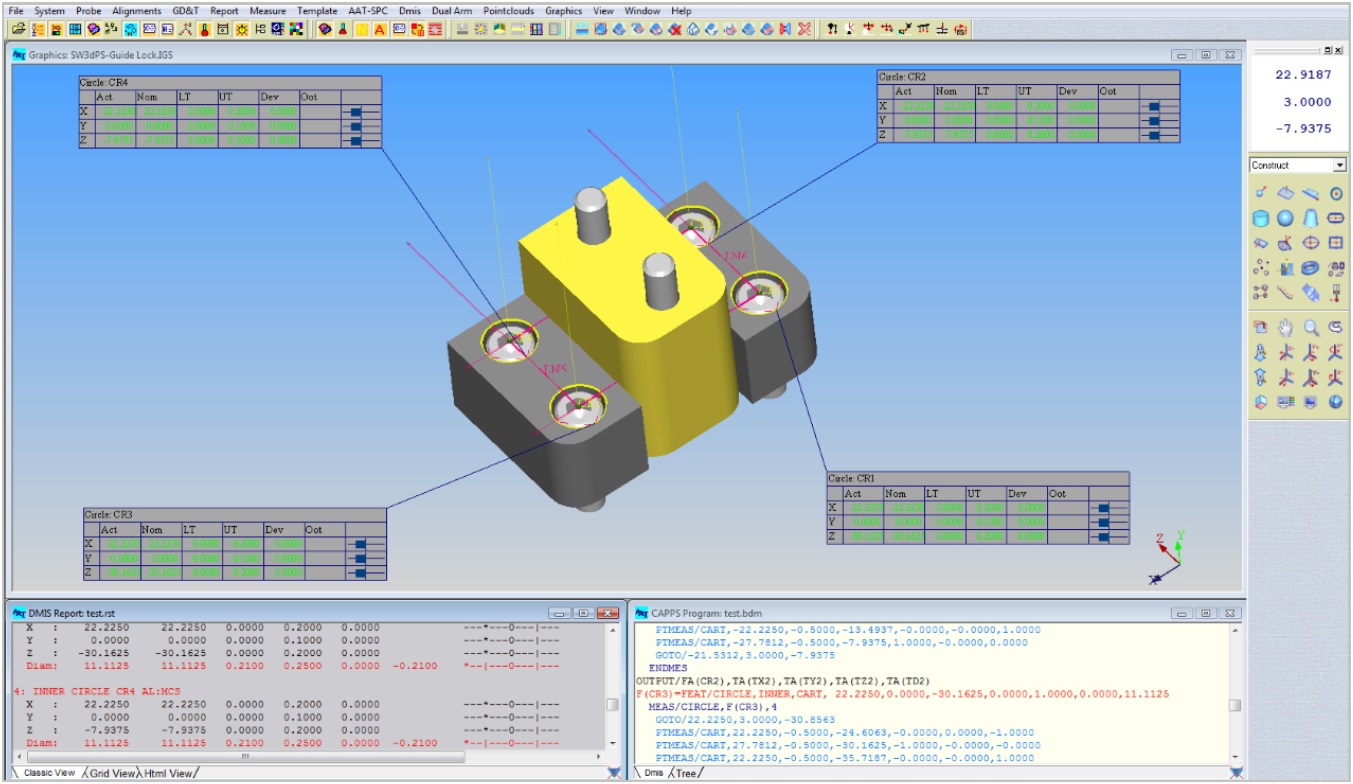 CAPPS Basic Plus
The Basic Plus version allow the user to manage with CAD geometric features.
Parts can be measured with or without CAD models by automatically creating DMIS programs.
– Programming in native DMIS language
– Automatic probes calibration
– Off-line programming
– Import and visualization of CAD models
– Extraction of nominal values ​​from wireframes
– Adaptive profile scan
– Reverse engineering functions
– Possibility of upgrading to the Advanced version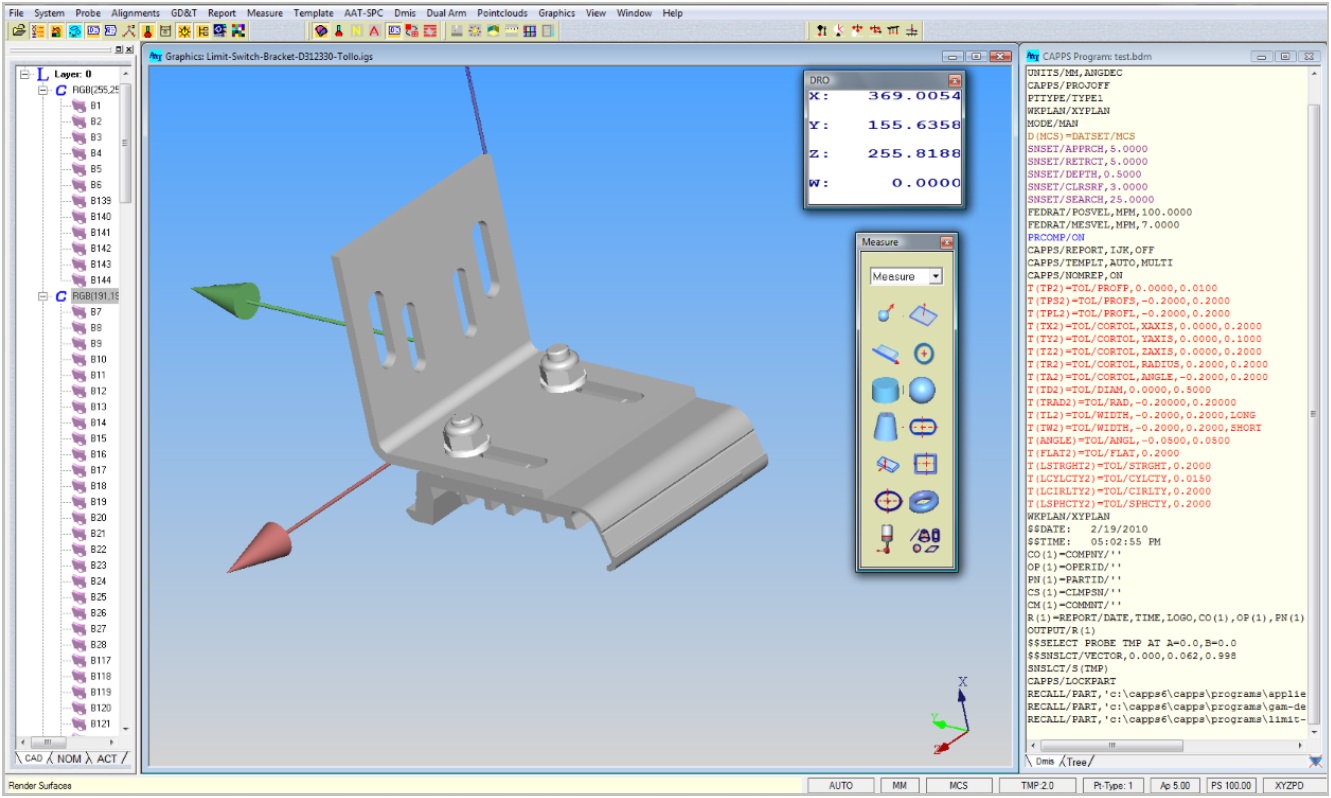 CAPPS Powerfully Simple
Capps PS (Powerfully Simple) is the inexpensive version of the software, the best solution for users who do not use CAD integration in their inspection process.
– Measurement of all geometrical elements and tolerances GD & T
– Complete set of construction methods
– Simple procedures for calibration and alignments
– Geometric elements displayed in 3D
– Customization and flexibility in generating reports
– DMIS input / output options
– Possibility of upgrading to the Basic Plus and Advanced versions.