A new scanning experience
Ace Skyline combines the Ace measuring arm and the Skyline 3D scanner, providing a high performance system for contact and non contact 3D measurements.
Accurate, fast, flexible…it replies to all your requirements and can scan the most challlenging parts.
Save more time
Advanced scanning speed
Large laser line and high frequency decrease the number of scan passes and make the scanner movement faster to acquire dense point clouds in a blink of an eye.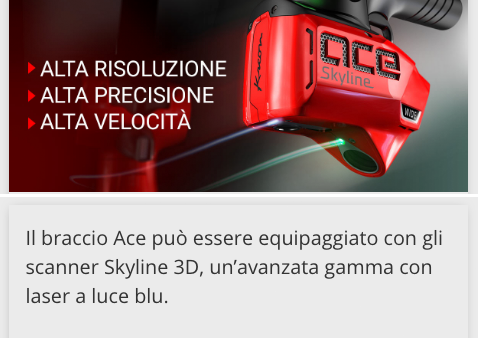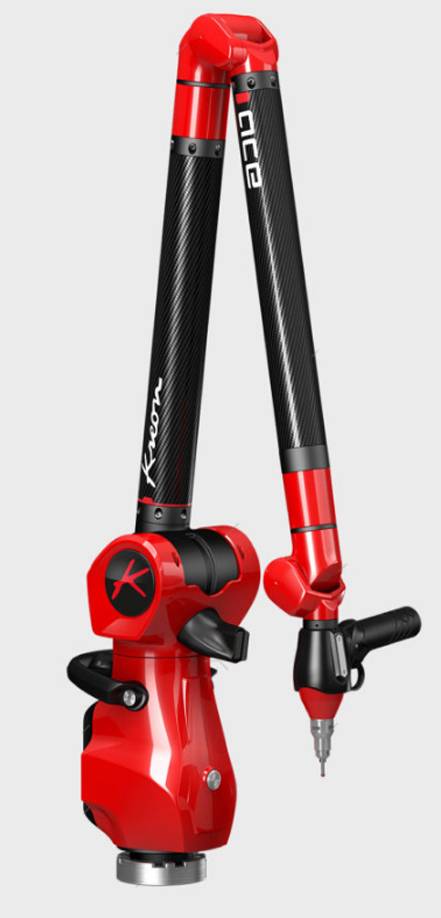 6 or 7 axis measuring arm?How to choose?
Choose Ace 7 axis for scanning ergonomics
Choose a 7-axis arm to scan easily and effortlessly due to its handle and ergonomic design. KREON 7-axis brings more flexibility to properly handle the scanner.
Choose Ace 6 axis for probing and accuracy
Kreon Ace 6 axis is made for accuracy. It is mainly used for probing operations with high requirements.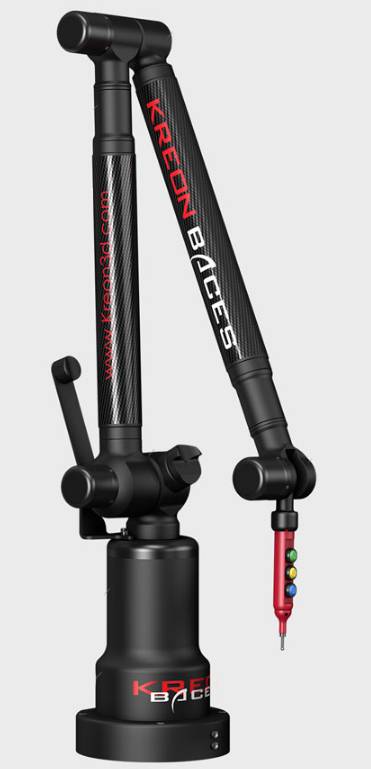 Kreon Baces is a three-dimensional measuring arm, convenient in use for touch-probing applications. It has an internal calibration secured by a mechanical architecture based on aluminum- and carbon-fiber materials, which makes its structure extremely light and stable. It is ideal for metrological applications like reverse engineering, digitization, inspection, rapid prototyping, etc.
When….
…needs of accessibility and transportability of the parts make difficult working with traditional coordinate measuring machines, manual measurement with the articulated arms is the most advantageous solution in terms of costs and speed of inspection.

Blue Laser
Kreon Technologies was the first to develop blue laser technology. Its main benefit being the ability to scan reflective surfaces without damaging them or using any surface preparation materials. We are the world leaders, continuously striving to provide the most efficient, high performance blue laser scanners, Solano Blue and Zephyr II Blue, at the most competitive prices.

Skyline Scanner
The Skyline scanner is the first Kreon laser scanner integrated with the ACE measuring arm.
The 200mm wide laser line and the very high 3D scanning speed (600,000 dots / sec.) Allow it to scan every type of object in record time. Its high accuracy (15μm) allows detecting even the smallest details even of the most complex pieces.
Thanks to the perfect integration with the ACE measuring arm, the Skyline 3D scanner offers the ideal ergonomics for intensive use.